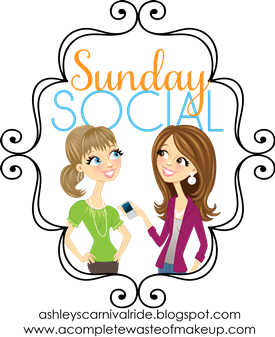 I am linking up with Ashley and Neely for Social Sunday. Just in case you haven't heard the details, each Sunday they will post six fun questions, post your answers, and link-up. Super simple and super fun!
Favorite movie of all time I am probably dating my age My movie would be

When a Man Loves a Woman

-1994 with Meg Ryan and Andy Garcia.
An airline pilot and his wife are forced to face the consequences of her alcoholism when her addictions threaten her life and their daughter's safety. While the woman enters detox, her husband must face the truth of his enabling behavior
.
Favorite movie quote
"Come on, let's be real. You're clean. You stay hopeless and confused. Keep polishing those skills. And I'll take the heat. 'Cause I got some needs of my own. When I touch my wife, I like it better if her skin doesn't crawl.
My wife hurts. I need to be able to say 'What's wrong, honey? Something I can do? And I love you"
Best movie to watch for a girls night in

Pretty Woman

with Julia Roberts and Richard Gere.
A man in a legal but hurtful business needs an escort for some social events, and hires a beautiful prostitute he meets... only to fall in love.
Best breakup movie - The BodyGuard with Whitney Houston and Kevin Costner.
A former Secret Service agent takes on the job of bodyguard to a pop singer, whose lifestyle is most unlike a President's.
Favorite celeb eye candy
NBA superstar

Tony Parker

says he
suffered
a serious eye injury during the Chris
Brown
vs. Drake bottle-tossing mega-brawl.
Which movie stars closet would you want to raid -
Catherine Zeta-Jones